Full Circle is here!
Roger's second full-length record is now available at  iTunes, CDBaby, eMusic and at all of his gigs!
A little bit about the man…
A performer since the late 60s, Roger is a vocalist and guitarist, playing 6 & 12 string acoustic guitars. Well-known and -loved in the Bay Area, he performs at local wineries, as well as weddings, private parties, benefits and festivals. His repertoire of over 300 songs includes cover tunes from the early 60's to the present.
His selections are timeless favorites by artists like Harry Chapin, Jackson Browne, the Beatles, Gordon Lightfoot, James Taylor, the Eagles, Grateful Dead, Jimmy Buffett, Simon & Garfunkle, Crosby, Stills & Nash and many more.
"His unbelievable voice and great strumming makes for a perfect afternoon of tunes and wine." From Black Smith Square wineries.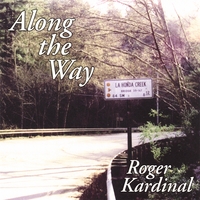 In 2000, he released his first full-length album, Along the Way, with tunes by Gordon Lightfoot, the Beatles, Crosby Stills & Nash, Jimmy Buffett and many more. Check out a few songs from the record and order your copy!
Roger is available for your next event! Email to get in touch.